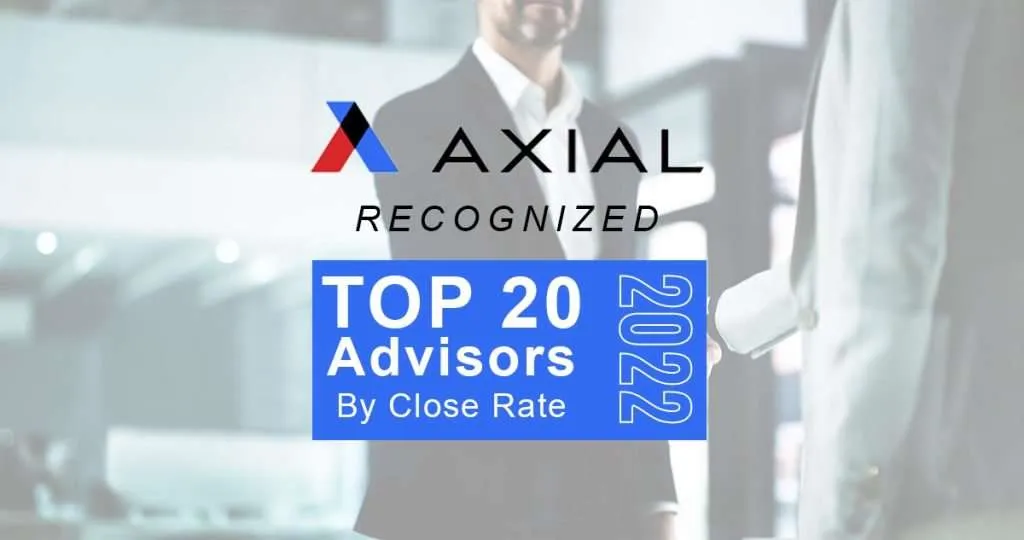 CHICAGO, IL – February 23, 2023 — Sun Acquisitions, a Chicago-based mergers and acquisitions firm, has been recognized as a Top 20 Advisor, Lower Middle Market by Axial Network, Inc. ("Axial"). With more than 3,500 advisory firms and over 2,000 corporate buyers, Axial ranks advisory firms based on close rates of businesses listed on their platform and not a self-reported performance which may include private sales.
"To achieve this recognition amid a challenging economy is a great accomplishment," says Managing Director Domenic Rinaldi. "With over 20 years of experience, we have successfully completed over 450 transactions.  Our team has experience in a wide range of industries, affording us the flexibility to work with numerous diverse companies from healthcare to manufacturing to construction and others, consistently achieving great outcomes for our clients."
If you are buying or selling a business, Sun Acquisition and its advisors invite you to a confidential consultation or provide our Buyer or Seller Readiness Assessments. Completing our Readiness Assessments will help identify areas requiring additional preparation prior to the purchase or sale of your business.
About Sun Acquisitions
Sun Acquisitions is a Chicago-based mergers and acquisitions firm. We work with clients interested in the confidential sale, acquisition, or valuation of privately held middle market and main street companies. Our professionals have significant experience and knowledge to thoroughly guide clients through each stage of the sale or acquisition process. Sun Acquisitions has successfully managed and handled engagements across all industries and is recognized as a leading M&A advisory firm in the Midwest.